Who's a LUCKY adopted dog? MOLLY and HOSS have new homes!
We took in 4 new dogs today and every dog kennel in our shelter is full. Meet the new pups!
Frampton, 4 yr old mini poodle, male, very sweet and cuddly, likes people and other dogs...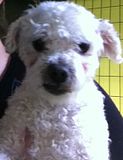 Irish, 1 1/2 yr old pug/Chihuahua mix female, she wants to be friends but this baby is VERY worried in the shelter and could use some TLC and a low stress permanent home...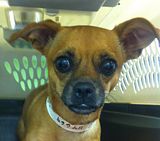 Kokoa (we're sorry, she came to us with her name spelled this way) 4 yr old terrier/Chihuahua mix, hard to tell from our pic but she is small, sweet and spunky!--seems to really like other dogs and people...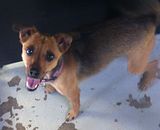 ...and Benny, what a cutie! This poor boy was left at another local shelter when his previous owner went to jail. Benny is 9 yrs old, compact and adorable, and such a little gentleman! We were called to the rescue today when the other shelter became short on space, and we hope to find a forever home for Benny soon!
Also still at IMHS in need of homes are PACO the Chihuahua, SCAMP the wirehaired dachshund mix, big ROCKY (the fabulous) black lab/pitbull mix, and last but never least TESSA the smartest terrier/shepherd ever!
Looking for a lifetime friend for love and companionship?
ADOPT!
The shelter is open every day for adoptions, and we want to help you find your new best friend!
***Our digital camera "retired" itself today, to our dismay, and we desperately need a new (or gently used) one! If you can help us by donating a camera, we'd be so grateful! We need a digital camera

every day

for marketing animals for adoption, and maintaining our photo files for newsletters, special reports and such! PLEASE, if you can help...call us today at 303-838-2668 or swing by any day between 8am - 4pm (til 7pm Weds evenings)....thanks so much, everyone!***
Marta Anderson
Shelter Director
LIKE us on Facebook!