WHO is a lucky adopted dog? BENNY, HOWIE, ELI, JOE, and BISCUIT have all gone HOME!
Meet our new furry friends who are seeking forever homes...
Sandy! She is perfection in a dog...11 months, sweet, playful and adorable:
Sandy insisted on a second shot...
And Jane! Poor, sweet shy Jane. She is scared out of her wits, but couldn't be nicer about it. She is a 1 yr old blue heeler mix, the perfect compact size, and the most huggable dog I have ever met. She's dying to meet her perfect someone--please come fall in love with Jane!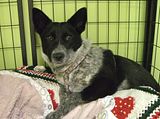 Try getting Jamie to sit still for even a minute--not easy! She's sweet and social, very smart, 12 week old boxer/shepherd pup with very expressive eyes...
High five from Jamie. She's just cool.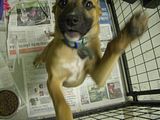 And I'm throwing in some Chico for good luck. Chico came to us frightened and cowering from the world...he's come SUCH a long way with the help of our staff, enrichment volunteers, and foster caregivers! Chico is 3 yrs old, loves gentle people (esp women) and other dogs, and is very eager to please...once he bonds with you, he's stuck like glue. Chico is housetrained and has great manners. She's smart as a whip. Please come meet Chico!
Thank you for reading our posts and sharing the news of adoptable dogs and cats with your friends--it means so much!
SAVE A LIFE--ADOPT, don't buy.
Marta Anderson
Shelter Director
OPEN DAILY FOR ADOPTIONS *** LAST CHANCE TO BUY RAFFLE TICKETS!!
LIKE us on Facebook!