BIG WET DOG KISSES to Vicki of Mountain Tails Mobile Grooming
for the donated bath and grooming service for Luke today!
Lovely Golden Retriever Luke came to IMHS with matted, tick-infested fur this morning. An unclaimed stray, he was badly in need of some TLC. Not to worry....Vicki Price and her mobile grooming unit to the rescue!
Luke getting his scrub on:
The bath and brush-out: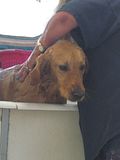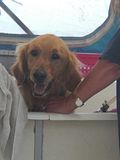 Luke, clean and lovely, with kind Vicki: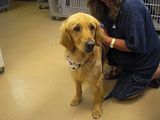 ...it's all in a day's work.
Interested in adopting beautifully groomed, fabulous 2-yr old Luke? Meet him TODAY at IMHS before 4pm. Perfect, purebred and clean-smelling goldies don't last long so hurry over!
Marta Anderson
Shelter Director
OPEN 7 DAYS/WEEK for ADOPTIONS