It's only been a few days into November but already 4 animals have found new homes! Congrats to Gia and Toby who were adopted and Andy who is on a try out. Annabelle the kitty has a new home too!
Our wish list is the following...
WET Cat food- Pate style is best. Supplies are critically low.
WET Dog food- Pate style is best here too.
Laundry Soap- liquid or powdered will work just fine.
DRY Cat and Kitten Food- Cat/Kitten chow is best. We are down to our last bag of each.
Sturdy flashlights for our evening dog walkers.
Our picture this week should make you Toby fans VERY happy!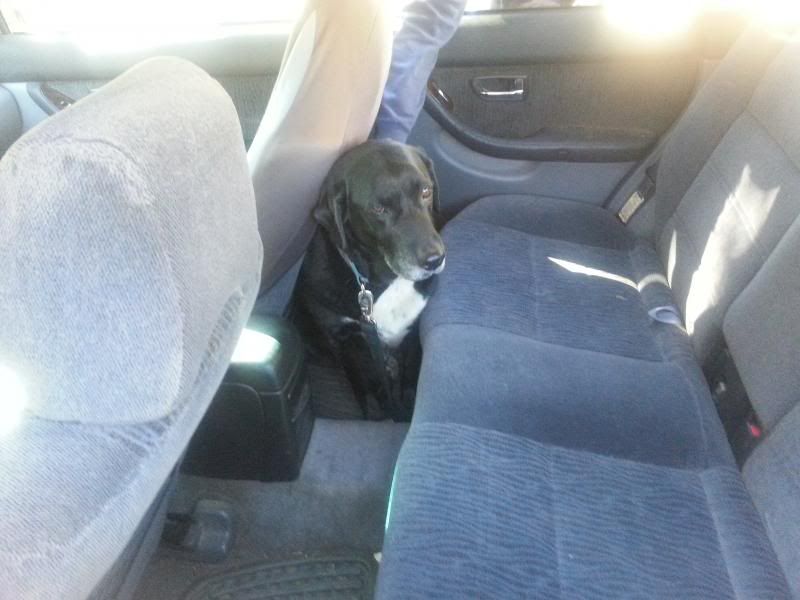 After Stanley was adopted, Toby was a little lonely. Not to worry! A WONDERFUL adopter who was in love with Toby was able to come in and complete his adoption. This is him going home. Toby wanted nothing more than to scrunch down in the back and stare at his new mom. No mean feat this scrunching when you consider that Toby weighs about 76 pounds. He was SO content!
This is Howie-
Howie was returned to us when his owners could no longer keep him. He had a few rough days in the beginning but has now warmed up and is one happy, wiggly guy. Howie is 8 years old and loves to greet his visitors here with a strong "woof". He would do his very best in an Adult only home with no other pets. His new owner should fully understand his breed and the fact that, at 8 years old, Howie is set in his ways. If you think you can live with those sad eyes and adorable long ears, give us a call or come by.
This has been a tremendous two weeks with many well loved dogs finding their new homes. Thank you for the adopters who opened their homes and their hearts. You make this ALL worthwhile....well that and kitty kisses and doggy slobbers.
Thank you to our Pinecam post fans who keep me on my toes and gently remind me that the post is overdue. You are the best!
Susan Morrison
Shelter Supervisor