OKAY, so I am stupid with a capital S
Monday, Cassi had a cling-on on her long haired behind and was stinking up the joint. I proceeded to pick her up to try to get it off. Well when I grabbed her and began to pick her up from the floor, she took off and my instincts held on, so my arm was JERKED HARD forward and UP. I was in IMMEDIATE PAIN and [censored word] that I was so stupid and worried that I undid the surgery. Roger came running in and helped me to calm down and breath. After about 10 minutes, the immediate pain was subsiding, but now I worried. I could still move my arm, so I decided to wait until I saw Dr Reister the next day (yesterday, Tuesday the 24th) for my 2 week post surgery visit.
I told him I was SO STUPID and he got right to my face and said "about 20% of my patients are stupid"
Well, I told him, I had set a new bar. Anyway, no damage done. He was most concerned with the tendon that they remove and reattach to get in there to work and it was still good.
He also told me that I was the only patient that he has ever put his foot on their bed.
We took XRays and it is so cool. I asked him how my shoulder looked when he went in and he shook his head and had a look on his face like he just tasted something bad and said, "oh it was way time for it to come out, it was bad".
This is not my shoulder but a good likeness to what it looks like now. yes, that is stuck all the way down in the humerus. The bursa that was always inflamed and causing my arm to hurt is above the new joint so out of the picture and the rotator cuff that kept tearing is also not involved in new joint.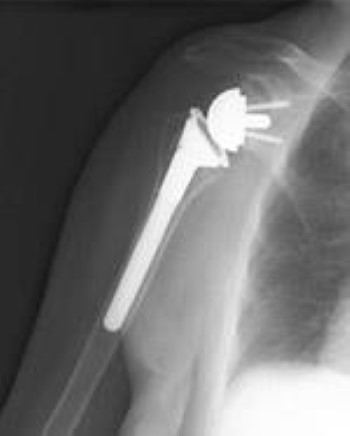 Got the staples out but is has a ways to fully heal, so no hot tub yet. I set myself back about 5 days in the healing process as regards to pain, so I am taking Oxycodone about 2 times a day.
I should start PT on Friday, just waiting for them to get Tricare authorization. I go back to see him on Halloween.